Il controverso ricercatore ed astrobiologo Richard Hoover con i colleghi del Centro di Astrobiologia dell'Università di Buckingham ha, per molti anni, fatto scalpore in tutto il mondo per le sue affermazioni riguardo le prove di vita extraterrestre.Hoover presenterà alcune di queste prove, al Congresso Internazionale sugli UFO  (International UFO Congress) che si svolgerà giovedì 13 febbraio presso il Radisson Fort McDowell a Fountain Hills in Arizona.

Le dichiarazioni di Hoover hanno catturato da sempre l'attenzione dei media, specialmente quando era capogruppo al Marshall Space Flight Center della NASA a Huntsville, Alabama, nel 2011. Nel marzo 2013, la Fox News pubblicò un servizio su un precedente documento redatto da Hoover e presentato dalla controversa rivista scientifica fondata nel 2009 "Journal of Cosmology", in cui afferma come Hoover sia riuscito a trovato prove di cianobatteri fossili extraterresti  in un piccolo meteorite caduto nello Sri Lanka il 29 dicembre del 2012. Il redattore capo del Journal of Cosmology, l'astrofisico di Harvard Dr. Rudy Schild, si dice d'accordo con le conclusioni di Hoover. Altri scienziati della NASA ed alcuni astrobiologi di fama internazionale invece rimangono scettici riguardo l'argomento. Hoover è attualmente ricercatore in visita presso l'Università di Atene.
Il co-organizzatore della conferenza, Alejandro Rojas, dice:
"Le persone interessate agli UFO non sono estranee a questioni controverse e sono anche affascinate dalla ricerca di vita extraterrestre, la conferenza quindi ci sembra il luogo ideale per presentare eventuali convincenti testimonianze da parte di Hoover. Le possibili implicazioni del suo lavoro sarebbero allucinanti".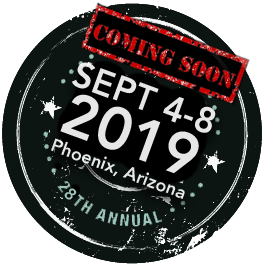 Il Congresso Internazionale sugli UFO è un'organizzazione dedicata alla diffusione di informazioni relative a molte aree ufologiche.  E' stata fondata nel 1991 ed ospita la più grande conferenza del suo genere al mondo.  Offre presentazioni di autori, ricercatori, esperti, appassionati e a tutti coloro che hanno assistito a fenomeni paranormali provenienti da ogni parte del mondo.  Fornisce inoltre un importante forum per discutere sulle ultime scoperte.  Gli argomenti trattati sono generalmente molto variegati e vanno dai rapimenti, avvistamenti di UFO, UFO crash, cerchi nel grano, esperienze paranormali, cospirazioni governative e molto altro. Insomma c'è ne per tutti i gusti. Attendiamo quindi con impazienza questa conferenza per sentire che cosa ha da dirci Richard B. Hoover. Non mancheranno aggiornamenti al riguardo.
[divider]
[box type="shadow" ]
Richard B. Hoover (3 gennaio 1943) è uno scienziato che ha scritto 33 volumi e 250 pubblicazioni su astrobiologia , estremofili, fisica solare, ottica X-ray/EUV e meteoriti. Detiene 11 brevetti negli Stati Uniti e nel 1992 è stato premiato come Inventor of the Year dalla NASA. È stato impiegato presso il Marshall Space Flight Center negli Stati Uniti dal 1966, dove ha lavorato in astrofisica e astrobiologia. Ha fondato l'Astrobiology Group nel 1997 e fino al suo pensionamento, alla fine del 2011, ha diretto la loro ricerca. Ha condotto ricerche su alcune estremofili microbiche in Antartide, microfossili biomarcatori nelle rocce del Precambriano e su alcuni meteoriti condriti carbonacei. Hoover è meglio conosciuto per aver sostenuto per tre volte (1997, 2007 e 2011) di aver scoperto microrganismi fossili su di alcuni meteoriti caduti sulla terra.[/box]